Climate change is a major challenge for our civilization. Educating the public about its causes and empowering them to be part of solutions is crucial for catalyzing systemic change. This project aims to shape the next generation of proactive, responsible, and climate-conscious citizens to meet Finland's decarbonization goals.

To comprehend the challenges related to climate education faced by the education system, we conducted workshops and interviews with teachers and government representatives who are key stakeholders. Additionally, we mapped out the education system and identified areas that need improvement.
In Finland, the teaching of climate education varies depending on individual teachers' personal interest, prior knowledge, time availability, and confidence and skills in discussing climate change. Due to the lack of time and support for climate education, peer interaction among teachers through a "community of practice" is crucial for keeping their knowledge and approaches up to date.
To improve climate education, we focused on teachers as they play a crucial role in educating students. We identified two types of Finnish teacher personas: the Hesitant Teacher and the Confident Teacher.
Our proposal aims to update climate education in Finland by using discussion-based methods that prioritize open dialogue and active citizenship. The Climate Educators Network will improve climate education by giving teachers tools, a platform, and a network to share knowledge and experiences. This approach will create a community-based ecosystem that fosters a more comprehensive climate education for active citizens. Our three-part proposal encourages teachers to use this approach.
✉️ Part 1: Conversation Starter Kit
To introduce teachers to climate education, start with a kit that includes discussion-based materials and a call to action.

💻 Part 2: Climate Educators Online Platform
The Climate Educators Online Platform helps teachers access relevant educational materials and peer support. It connects experienced and new climate educators throughout Finland in a common online space.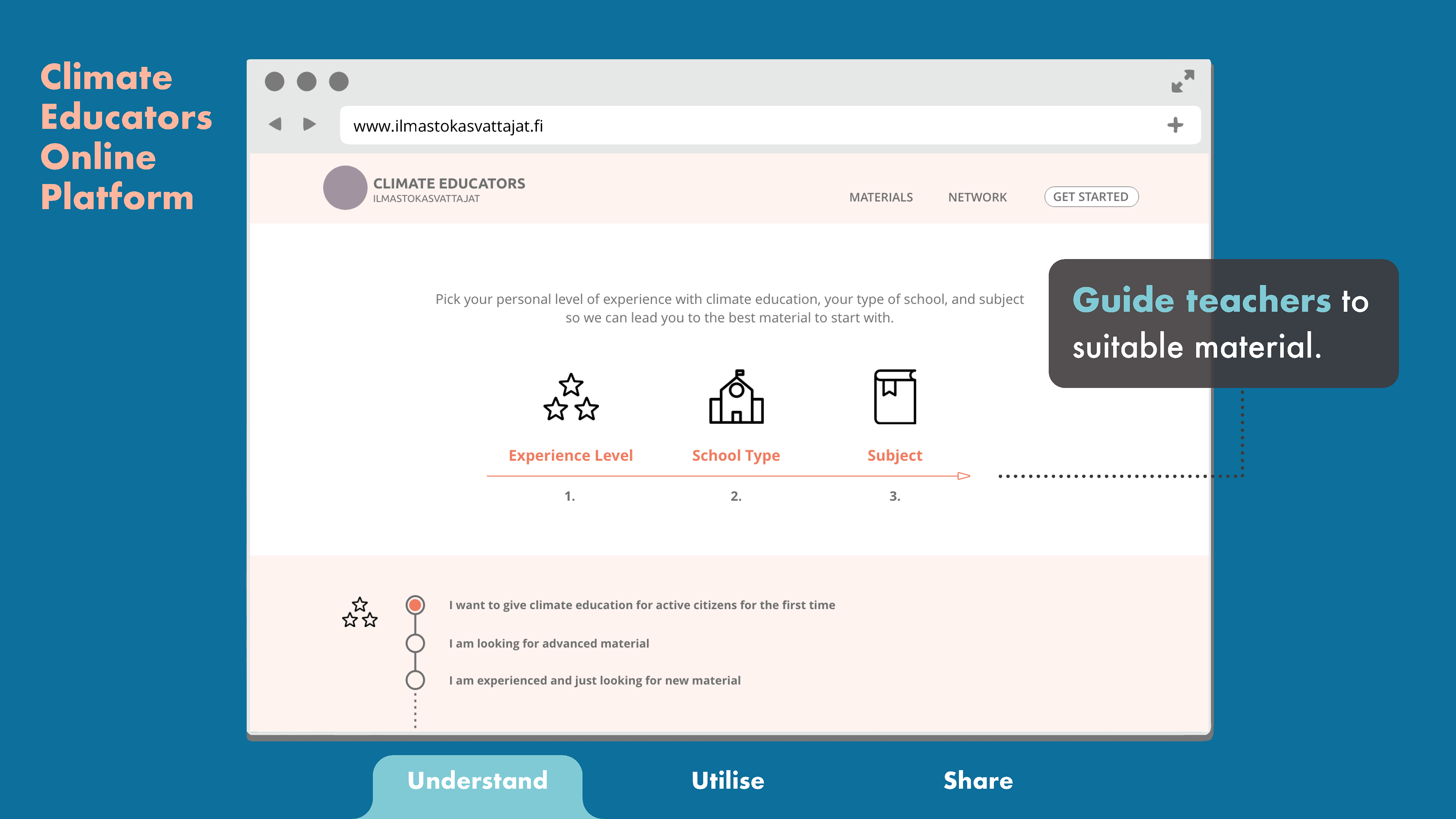 🌐 Part 3: Climate Educators Network

The Climate Educators Network is central to our vision for enhancing climate education in Finland. Our proposal, named after the network, offers tangible resources to support teachers who are hesitant to teach about climate change. Additionally, it promotes peer-to-peer learning and collective action.